If you are a first-time visitor of Srisailam or planning to visit Srisailam in the near future, then this article will help guide you on the things that you should plan ahead before your travel. I hope this post will help you organize your travel in a much better way and ensure that you have a pleasant and informed journey. Here are my 11 tips to remember while traveling to Srisailam:
1. Make your accommodation booking in advance to avoid the stress of not getting a room once you reach the place, especially during weekends. You may find brokers who can arrange for a room, but you would end up paying way more for a mediocre room. For most of the time, it is difficult to get accommodation on the spot. Hence, book the accommodation in advance to prevent any difficulty at the moment.
In general, Ganga and Gouri Sadanam are near to the temple. However, if Pathaleswara Sadanam is adjacent to the Cable Car and boating area. Thus, view wise it is more spacious, scenic and far from the crowd. If convenience to the temple is your priority, choose Ganga/Gouri Sadanam.
2. If you get accommodation through any of the Sadanams maintained by the government, there will not be an issue in the parking. In general, also, I have not seen parking to be an issue in this area.
3. The rooms that you get from APTDC are well spaced and relatively good to stay at. For a price of 999 INR, we got a three-bed well-ventilated room with a separate dining/living area. I would give it 4.5 stars in terms of cleanliness and maintenance.
4. The food is generally good and will not be an issue. You can get a variety of south Indian as well as north Indian vegetarian dishes. Dosas, idly and vadas are common breakfast there.
5. You will find a lot of booths for free mineral water in and around the temple campus. Again, water is available inside as well as outside the temple campus.
6. You will need to get an access card to get inside the temple entry gate. This is given free to all devotees where they capture, they capture your image via a webcam and validate the same at the entry. Note down the timings at the access card. This would be the time where you will be allowed to enter the actual temple campus. Rest of the time will be waiting period inside the temple waiting rooms.
To give you an idea, we took our access card at around 6.45 am on a Sunday morning and our darshan time was indicated as between 8.30 am to 10.30 am. This is the kind of wait-time that will take at a minimum. You will not be allowed to enter the actual temple entry before this time in any case. That too, this is wait time we got at a time when it was a relatively off season. The only catch was it was a Sunday. During festivals and peak season, expect a much higher wait time.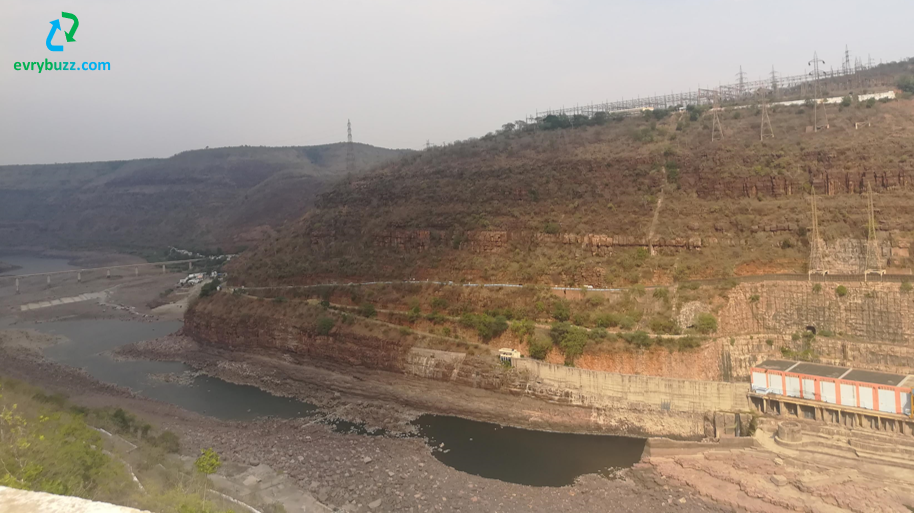 7. There are specific counters for Prasadams and other temple souvenirs, thus
8. If you are a first-time visitor to Srisailam and want to get a hang of the place try going on an off-season and during weekdays. Weekend are way too crowded all throughout the year.
9. There are other places of attraction in Srisailam like the cable car and boating ride through the Nagarjuna dam. This remains opens till 5.00 pm in the evening. As usual, you would find a long queue here too. There are two rows of cable cars here, where each row can accommodate 16 people at a time. It cost you around 65 INR for a two-way ride for adult and 45 INR for a child (between 3-10 yrs.).
The only problem with the cable car is that it drops you to the other side and then again you have to stand in a long queue to get back to the destination. This was a disappointment for a 4-minute cable car ride with a 1.5-hour queue wait-time.
However, if you choose to go boating, you may continue to do so. The boating has a steamer boat that can accommodate around 75-100 people and gives you a ride around the Nagarjuna Sagar dam. The boating facility also closes at around 5.00 pm in the evening.
10. There is also a cave that is available to visit only from 9.00 am to 11.00 am. The cost is a bit higher around 320 INR.
11. Although every time is a good time for darshan, however, I would suggest people traveling with family to avoid summers as the temperature gets too much heated up and kids might get sick. Since for visiting anything around, the wait time will be there, hence good weather will be an add-on in such circumstances.
The above is just an indicative guide in and around area for Srisailam and specifically for people who want to visit the Srisailam temple. If you have time, you can plan a visit to the tiger reserve forest which is a 1-hour car ride from Srisailam.
Hope you find this article useful enough for you next trip to Srisailam.
Happy Travelling!!!!