With the focus on fashion style increasing day by day, bags have evolved to be one of the trendiest accessories for a woman and we intent to bring you the perfect accessorized bag for your look in this post. With varieties flushing the market online as well as offline, bag is an essential part, not only as a day to day need but as a fashion statement too. From funky looks to classic ones, from a teenager to a working professional, from decorative to being more conventional – you can get them all.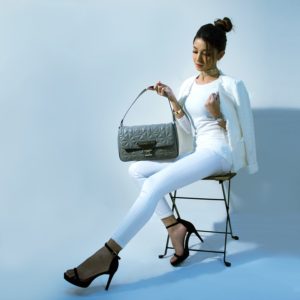 Gone are the days when bags were just used for traditional use with a more focus on what it will used for rather than how you can use it as a more fashionable attire keeping its usage intact. From then till now, a lot of attention and creativity has gone into bringing it as a point of notice. Bags have come off as more of a fashion statement that is considerably talked about from models to celebrities. Fashion stylist and fashionista do make it a point to talk about what bags to match with your attire and how appropriately it should be carried.
Here are a few common bag types with their latest collection to keep you going:
Handbags
Handbags are evergreen bags for women with its vast usage. Its size varies depending on what you want to use it for. It doesn't matter what you do, but a handbag is a must have for a woman and it's never going to lose its shine irrespective of the types of bags that are being reinvented every now and then.
Have a look at some of the popular handbags:

Backpacks
Whether it's going to college or for a travel trip, backpacks are always attractive options for women of all ages. From carrying books to laptops, backpacks have come off from being conventional to more attractive and beautiful. Keeping its sturdiness upright, a lot of attention has been given recently to beautify its look.
Have a look at some of the amazing trendy backpacks:
Tote Bag
Tote bag has recently gained into popularity with its reinvented stylish look. With its ability to carry a lot of stuffs, it has its own unique glamour attached to it. No longer are tote bags a simple symbolism of carrying vegetable and groceries, but its usage has also come off as being trendier and more useful at the same time.
Have a look at some of the amazing trendy Tote Bags:
Clutches
Clutches are perfect for party evenings adding elegance to your dressing. Mostly treated as one of the accessories that aligns with what you wear, clutches seem to catch the eye on the first look. This is one of the reasons for such a variety of clutches available at reasonable price.
Here are some of the trendiest clutches available:
If you want a little toned-down pattern, her are your options:
Potlis
Similar to clutches, potlis are suited when your attire has a more ethnic look like the saree, an anarkali kurti or a bridal look. When you think of traditional, carrying a potli along with it, is an obvious choice. This Indian invention is gaining more and more popularity and fits the need and the occasion. These days, matching potlis along with a bridal lehenga is a common giveaway.
Here are some of the amazing potlis available: