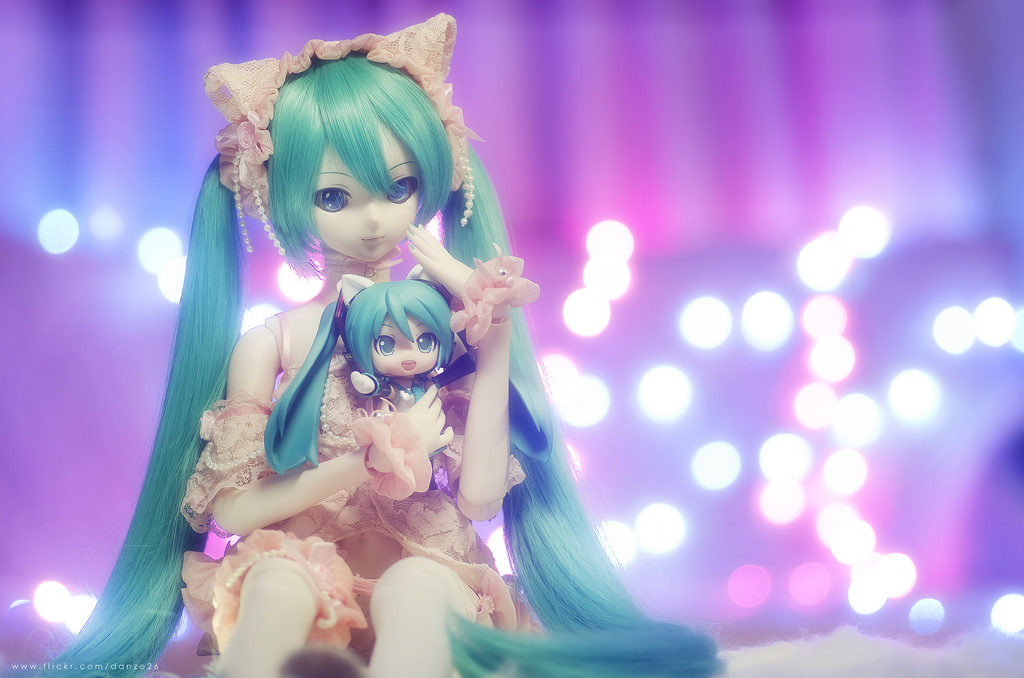 Before I start explaining everything, I should say that I'm not a certified Cosmetologist. I'm advising all of this based on my own experience. There are a lot of things to consider and a lot of research to be done before you decide to bleach & dye your hair. Yeah, Bleach! Vegan hair colors doesn't show on dark hair, even if you take the most pigmented colors. For us dark haired beauties, if we want to play with our hair a little, bleaching it first is a must. So, if you think you've done enough research, and are ready for some action, read along on How to dye your dark hair a crazy color at home.
**Wear gloves throughout the whole process.
Bleaching:
Since you're doing this at home, chances are less that you have an access to Olaplex treatment 1 & 2. It saves your hair from being damaged, and repairs it if it is. But, coconut oil works as well. It's not exactly a substitute, but it's probably the only thing you have at home that you can work with.
Apply the oil to your strands, atleast 14 hours before you start your bleaching process. You can oil your hair overnight since its more convenient. Coconut oil is the only oil that penetrates the hair shaft, and it takes almost 6 hours to do it. So, 14 hours is probably a stretch, but remember that you're about to damage the heck out of your hair by bleaching, so you need to get all the nourishment you can.
Now we get to the actual bleaching process. Mix your preferred bleach powder , to the the developer. The ratio of bleach:developer to be used, is usually mentioned in the package itself. But if it's not, mix it in a 1 part bleach, 2 part developer ratio. Once you have your mixture ready, apply it to your hair, and wrap it up with an aluminium foil of plastic wrap. This helps is speeding up the process, as it traps heat. Keep it on for 20 minutes, and then keep checking every 10 minutes to see if you've reached your desired color. Note that the color of hair you'll see now will be a bit lighter (due to your white bleach paste), as opposed to when you wash everything off. If you're using a blue bleach, the lighter hair color thing won't apply to you. Just keep checking your strands like normal.
Don't keep the bleach on for more than 60 minutes. Over-bleaching will only damage your hair and may result in you, cutting it off several inches. When you think you've reached a desired shade, wash off your hair with cold water and a really mild shampoo. (Don't use a conditioner if you're planing to tone and dye right away).
The Dilemma :

Now that you have your hair washed off, you've noticed that the color isn't even close to the platinum blonde you were hoping for. Have patience. This is not a one-step process. If you're using a 30V developer, (which I recommend – don't go off using a 40V developer. Please.Don't! ) your hair color probably looks a little brownish (close to a level 6) than blonde.
It will take a couple of more sittings till you reach a level 9 blonde. And in between those bleaches, condition the crap out of it. Your poor hair will thank you. Deep conditioning treatments, leave-in conditioners, or home remedies, try it all. Since bleaching strips out all the melanin (pigment that makes hair dark) and moisture out of your hair, and makes it practically dead (well, more dead) , you need to hydrate it as much as you can. It's advisable to wait atleast 1.5 weeks (or more, if you're not an impatient person like me), before you bleach your hair again.
Toning :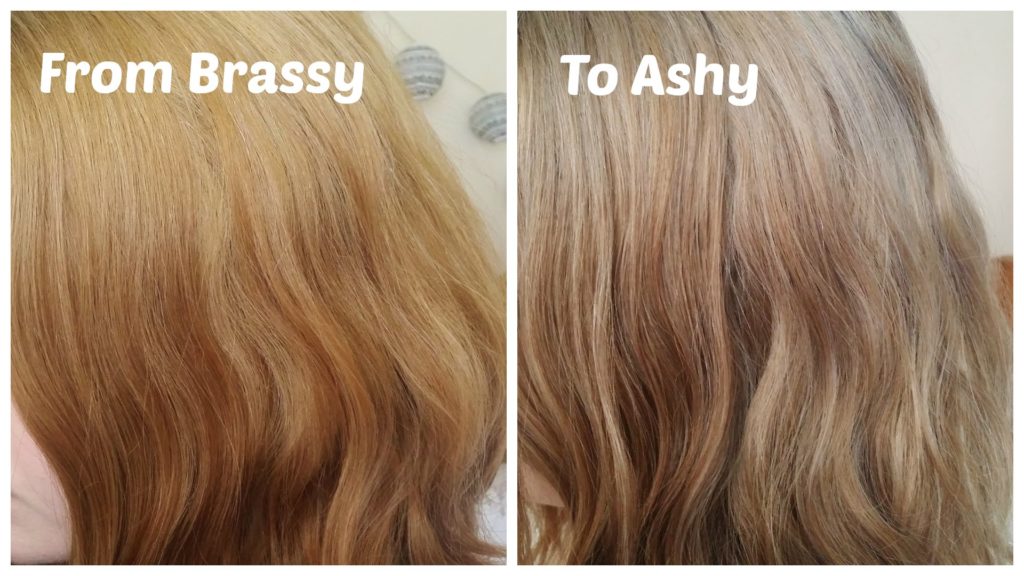 If you're bleaching your hair for the first time, your bleached strands will have a slightly yellow tinge to it, even if you've used a blue bleach (personally, I don't see any different between white & blue bleaches). You can apply the hair color without toning if you want, but the end result maybe slightly different than what's shown in the bottle. If you're planing to use a hair color in the shades of red, you can skip the toning process. The yellowish color of your hair won't make much of a difference. But don't ditch this process if you're planning to use a blue, or a pastel shade.
You can tone your hair using two kinds of products- Manic Panic Virgin Snow, or, a chemical toner.
  1.Manic Panic Virgin Snow : It is basically a lilac colored vegan dye. It claims to turn your hair from brassy blonde to white blonde. But in my opinion – don't use it when you're toning your hair for the first time. It won't make much of a difference. It's great for maintaining a white blonde hair, but to actually achieve it, stick to chemical toners.
2.Chemical toners : It is a purple-blue tinted demi-permanent hair dye that changes the undertone of the hair, making it appear ashy than brassy. It can also make your hair look shinier and healthier. Mix one part of toner to two parts of a 20V developer (or as said in the instruction). Apply it to your bleached hair and leave it on for 30 minutes and then rinse (Again, don't use a conditioner if you're planning to use fashion colors). Viola! Platinum blonde hair.
If you're planing to keep your hair a platinum shade, you dont need to use a chemical toner every single time to maintain it. You can use a purple shampoo , which is basically a purple colored shampoo, or the Manic Panic Virgin Snow. Alternatively, if you already have a purple dye at home, you can skip buying these products, and mix a small amount of purple dye to your shampoo and conditioner. It works just the same.
Dyeing: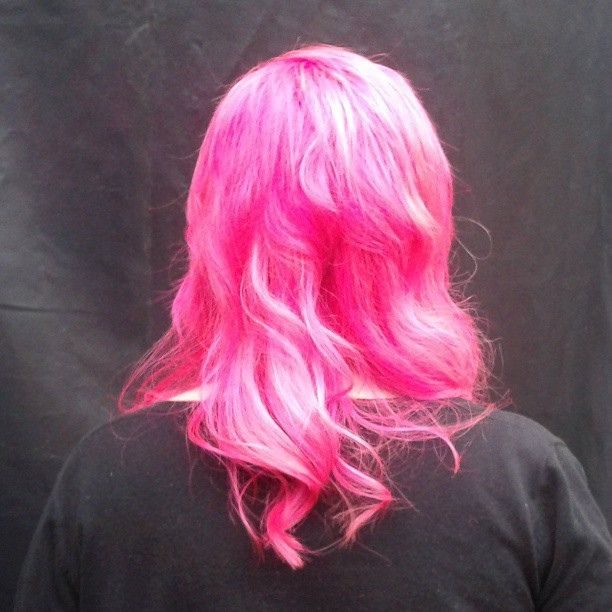 Now that you've toned your hair and it looks like your grandma's, its finally time for dyeing. Since you haven't used a conditioner, your hair is porous enough that dyes can penetrate it, and not fade immediately after the first wash. Take a section of your hair and apply the desired hair color with a brush. Now, rub the color into your hair using your fingers, so you don't miss a spot. Use two and fro motion on your strands until the dye starts to turn frothy. Repeat these steps all over your head.
The instructions in the bottle probably says to keep the dye on for an hour or something, but since it's vegan (no chemical) and conditions your hair, you can keep it on as long as you want. Keeping it overnight is recommended.
Rinse off everything in the morning and enjoy your gorgeous hair. Let me know in the comments section how you're hair turned out. xo
** If you have Olaplex Hair Perfector No 3 3.3 oz
, apply it on you first wash your newly dyed hair. You don't have to have used Olaplex No. 1 & No.2  to apply the third one, but when it is used as a complete three step, the results are even more great. Though No.3 alone is pretty fantastic.
     Wet your hair, towel dry it and then apply Olaplex all over, saturating it and then combing it through. Put on a shower-cap, and let it sit for 1.30- 2 hours (since your hair is recently damaged and everything. For the successive washes, 30 minutes is fine). After the time is over, rinse your hair with cold water and shampoo and condition. You'll see a noticeable difference.